Mr. Memory & Other Poems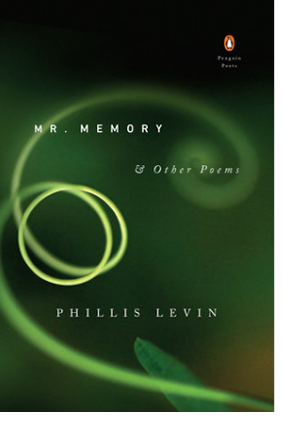 Penguin Poets (March 29, 2016), 96 pages, paperback, 5.5 x 8.4 inches, $18.00
ISBN-10: 0143128116 / ISBN-13: 978-0143128113
Finalist for the Los Angeles Times Book Prize in Poetry
Purchase: Penguin / Amazon / IndieBound
From the Publisher: Acclaimed poet Phillis Levin's fifth collection stays true to a visionary impulse sparked as much by the smallest detail as the most sublime landscape. From expansive meditation to haiku, in ode and epistle, dream sequence and elegy, Levin's new poems explore motifs deeply social and historical, intimate and metaphysical. Their various strategies deploy the sonic powers of lyric, the montage techniques of cinema, and the atavistic energies of the oral tradition. An ash on a crackling log, a character from Alfred Hitchcock's The 39 Steps, a burgundy scarf, an X-ray of Bruegel's Massacre of the Innocents, and a demitasse cup from Dresden are all woven into a collection by turns rhapsodic and ironic, pithy and incantatory.
PRAISE
Starred Review in Library Journal:
"The longer you look, the more your eye is rewarded. This advice applies equally to art lovers and readers of Levin's deeply felt new collection, her fifth. "X-Radiograph" is a moving meditation on The Slaughter of the Innocents, a painting by Pieter Bruegel the Elder, dating to about 1565. Parts of this canvas have been painted over, most likely by others, at a Habsburg king's direction. However, it is the underlying traces of Bruegel's brushwork (the pentimenti) that catch Levin's eye: ". . .there is no ham, no cheese, though that/ Is what the naked eye sees./ It isn't hunger, it's not a day of plunder,/ Something else is bringing her to her knees./ If you look a little closer, the shadow/ of an infant shows through: you can find/ many such shadows in the scene." Verdict: Levin similarly turns a fine eye and taut, probing line to Anne Frank's high heels, an Alfred Hitchcock film (the book's title poem), a burgundy scarf, a light blinking on the horizon—drawing readers beyond the page and deep into an underlying world of feeling and sensation."
—Iris S. Rosenberg, New York
"Levin enacts intense longing in these expansive meditative poems, and moves from the social to the metaphysical with enviable ease, in touch with the wonder of 'being everywhere at once'."
— Carol Muske-Dukes, The Huffington Post
"What I'm admiring, I wish to say, is the stately performance of these poems, the way Levin frames and channels her experiences, the way she sees and describes events from a stance of pure brain fashioned into refined artistry…. The considered, assured intensities of writing like this give Mr. Memory a distinctive intelligence, and Phillis Levin is probably one of the most brilliant poets writing today."
—David Biespiel in American Poetry Review, November/December 2016
"Phillis Levin's own signature is in some lines in a poem about a lost soul in the first grade, named Victor, where she says 'I / Could be everywhere at once, inhabit / Any mind, occupy any pair of shoes.' And she does just that in Mr. Memory, whether it is a lost scarf she is inhabiting, or ash in a fire, or the Odessa steps, or a grave in Lithuania, or a dot on the horizon, or a dead poet. The Other is not just close to her heart, it is her heart."
— Gerald Stern
"The poems in Mr. Memory are a fusion of keen intellect, passion, and wit. Phillis Levin has a sure grasp of the astonishing powers of the poetic line and the energy contained therein. Full of wonder and mystery, the poems in Mr. Memory transform the experience of ordinary life into something dream-like and visionary. Levin is a poet who knows '...we stand undone by all / We recognize...,' yet has the courage to embrace the shattering transformations that result." 
— Elizabeth Spires
"I've always deeply admired the way Phillis Levin combines suggestiveness of statement with subtlety of feeling. Her sequence of poems in the consciousness of Zeno, the Greek philosopher, are as mordant and full of longing as Zbigniew Herbert's Mr. Cogito. She never fans the air with some single faculty, but in every encounter in every poem the full force of all her faculties achieves a sacramental completeness of understanding."
— Tom Sleigh