May Day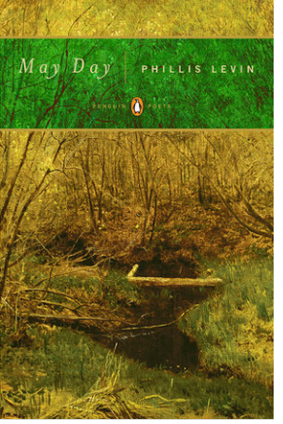 Penguin Poets (April 29, 2008), 96 pages, paperback, 5.5 x 8.3 inches, $16.00
ISBN-10: 0143113941 / ISBN-13: 978-0143113942
Purchase: Penguin / Amazon / IndieBound
From the Publisher: May Day is a work of a visionary imagination. In tones playful and celebratory, in gestures both intimate and international, Levin's poems explore how tenderness and violence change our lives. From a flood overtaking the Prague zoo to the joy of a maypole dance, from a mural of the Trojan War in a Greek diner in New York to the "noiseless explosions" of time in the opening of a flower, these poems are rhapsodies of the senses and the intellect, disclosing new thresholds of meaning.
PRAISE
"Phillis Levin's poems shimmer with gracefulness. By this I mean they sing, with eloquent restraint, as though 'there is no other way to say this.' But I also mean to identify that primal relationship between grace and the mysteries – for the perfectly voiced poems of May Day situate us, time and again, on the line between articulation and erasure, security and peril, real clarity and the ancient sublime. I know of no other contemporary American poet whose style of secular poetry verges so convincingly on the holy. Levin's abiding restraint reminds us again: A whisper allows us to hear the most sound."
—David Baker
"Phillis Levin's poems are both hot and cool – at once molten glass and shaped crystalline structure. With her abstracting and philosophical intelligence, she muses on patterns of passion and loss; with her heart, she makes us feel them. May Day is a book of severe clarity and authority."
—Rosanna Warren
"Lyrical, metaphysical, tender, and fierce, Phillis Levin's May Day delights and astonishes. Her use of Greek myth to illuminate contemporary violence and disgust summons up both tears and deep thought about our present and future."
—Martha Nussbaum
"Instead she values writing for longevity. What I mean is, to place one's poems into a public space is to agree to be canny. It is to immerse one's self in the lyric values of the past to communicate with the future. As Philip Larkin once said, poetry is a "richness" and a "release of delight" that's meant to last beyond the next news cycle and the last reader. Phillis Levin is just this sort of poet. Since 1988, with the publication of her first book, Temples and Fields, she has composed poems that invoke a dazzling fusion between the ancient and the contemporary. Her sort of poetry is metaphysical – a mixture of colloquial touch, ingenious metaphors and a mind flexible enough to fix moments onto a continuum of the sublime. In a word, poised."
—David Biespiel, The Oregonian
"One of Levin's great gifts is her ability to fuse the tiny and the vast in order to evoke the sweep of bygone eras and the realities of our own. Even if "the book of the world [is] so swollen it cannot close" ("Album"), her own poems, rich in spare, evocative language and subtle metaphors, offer a vision sharply etched and all her own."
—Ned Balbo, Antioch Review